Top Modded Gladiator Concepts Explained + Giveaway!
PAOLI, Pa. (April 9th, 2019) – With the official release of the highly-anticipated Jeep Gladiator, this year's Easter Jeep Safari (EJS) in Moab, Utah is all about Jeep Truck inspired concepts. In this episode of ExtremeTerrain's (XT) Jeep News, Ryan Huck brings his perspective in describing and critiquing the top-6 Gladiator concepts at EJS.
Each of the six working, one-off Jeep concepts brought to EJS this year feature unique and distinctive styling and design worthy of in-depth discussion. With both boxes for function and form checked off, Ryan applies his Wrangler wit, dissecting and reviewing each concept's appeal as well as the potential mods for future Gladiator owners. Be sure to subscribe and comment for your chance at a $150 XT Giftcard!
Watch it here: https://www.extremeterrain.com/throttleout-april-2019.html
Additionally, this video has been added as a resource to our Gladiator News and Info Hub:
View it here: https://www.extremeterrain.com/jeep-gladiator-accessories-parts-info.html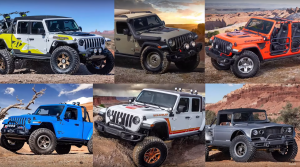 ___________________________________________________________________________________________
About ExtremeTerrain
ExtremeTerrain.com is a leader in aftermarket Toyota Tacoma and Jeep Wrangler parts and accessories. Located just outside Philadelphia, PA, ExtremeTerrain provides Wrangler and Tacoma owners with fast shipping and enthusiast-level, award winning service, while also ensuring the conservation and protection of off-road trails. Visit http://www.extremeterrain.com.