If you are having trouble logging into the forum, please clear the cache on your browser. If that doesn't resolve the problem, email us @ njja@njjeep.org so we can help you out!
Next Meeting & Meet n Greet:
February 13, 2019 @ 7pm | Location: Quaker Steak & Lube, 561 US Route 1 (Wick plaza), Edison, NJ 08817
Wheeler of the month
January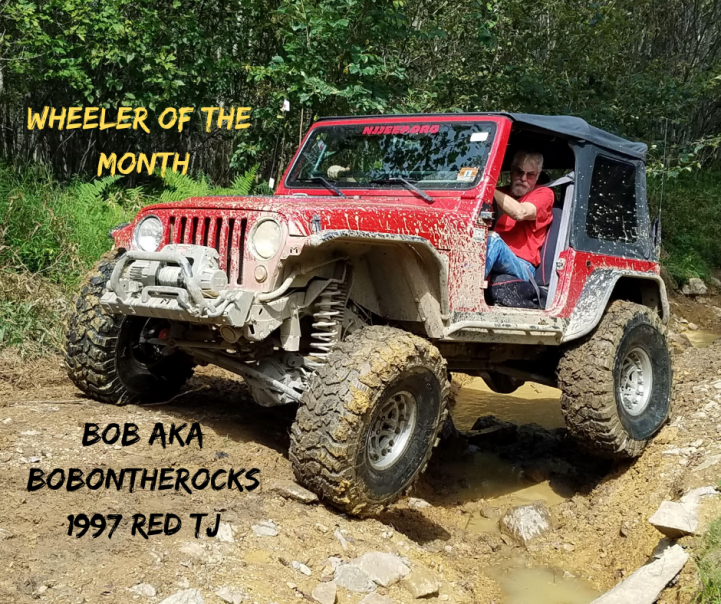 A little bit about Bob aka Bobontherocks
I live in Southampton Twp (Vincetown)
Years with NJJA: 10 yrs
Favorite Place: It's hard to pick one. Rausch Creek because it's closer. Moab was the best. One of my favorites is the one I haven't done yet.
Best Advice: Just go out and have fun. Go past your comfort zone and explore. Don't be afraid to ask questions and try new trails. We all work too hard, you need to get out and enjoy nature.
Jeep Build: 1997 TJ Red 90k miles (not all road)
Front: Dynatrac HD 44 5:13, e-locker, RCV Axle
Rear: Currie RockJock 60 5:13 Detroit Locker Chromoly Axles
Hutchinson Beadlock Rims
PitBull Rocker Tires 37-12.50-15
Atlas Transfer Case 4.2-1 Ratio
Tom Wood Drive Shafts
3.5″ Long arm lift Rubicon Express
Warn Winch with Synthetic Rope
Metalcloak Fenders & Front Bumper
Warn Rear Bumper & Tire Carrier