If you are having trouble logging into the forum, please clear the cache on your browser. If that doesn't resolve the problem, email us @ njja@njjeep.org so we can help you out!
Next Meeting:
march 16 2019 2pm @ Dominique Johnson Recreational Facility, 101 Scrapetown Rd, Pemberton, NJ 08068
Wheeler of the month
February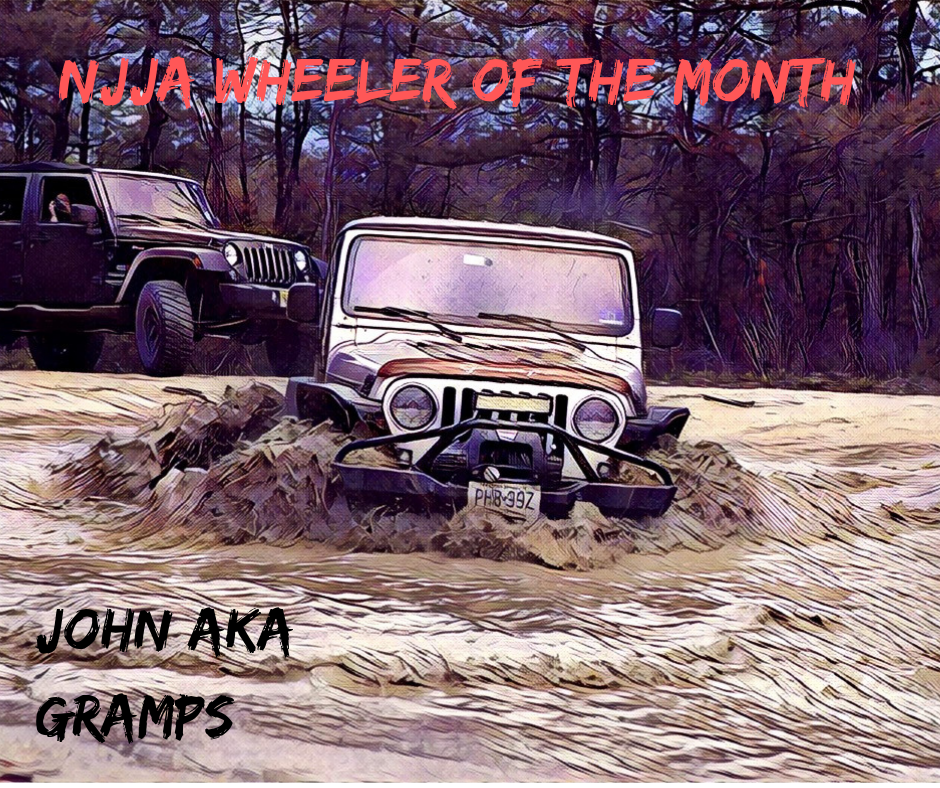 A little bit about John AKA Gramps
As a much younger guy in the early '90s, driving a Mazda pickup, I had no real interest in Jeeps. That changed when my teenage son started bugging me for a Jeep. I went to look at them, and and traded my 5 year old pickup for a new Sage Green YJ hardtop. Took a few years, but eventually it had an Old Man Emu suspension, aftermarket wheels, and 31″ BFG All-Terrains. Went all over with that, and eventually traded it in after 11 years and over a third of a million miles for another Mazda pickup. Now constantly getting stuck, that truck was traded in after only a year for a new Jeep Liberty. Again, an Old Man Emu suspension and a host of other goodies were added. Three years later, about the time I was looking to trade this one in, I saw a note on the Liberty Owners Special Team (L.O.S.T.) forum about a new jeep club starting in NJ. I went to the initial gathering, and the early meetings at Coleman Jeep's garage in Trenton. By that time, I had my current Jeep, and had added the OME suspension, some rock rails, etc. The build has continually progressed and I've remained with the club since it's inception.
Of course, I must acknowledge the support of my wonderful wife (of 46+ years!) Mechele, and her enthusiastic participation in both the club and off-roading.
Incidentally, Joe Crilly gets the credit for the photo.
John "Gramps" Hopkins